Project Development
Operating model of development
We utilize the latest digital tools in the industry, and through their purposeful utilization, we have enabled an unparalleled process. Creating and evaluating solution options is fast, whether the scope of the assignment is an individual building or an entire city district.
However, our true strength lies in our people and collaboration. Our team consists of highly skilled professionals in engineering, finance, and architecture. We approach matters comprehensively, considering each perspective based on our individual expertise. In addition to our own insights, we ensure the effectiveness of projects through the network we have built over decades.
For us, sustainability is the ultimate measure. Projects must be built on a sustainable foundation, considering the well-being of people, profitability, and the environment – the triple bottom line, as it is said in the larger world. Only a functional whole can be sustainable, and it is precisely functionality that our inclusive process aims to commit different stakeholders to.
Our clients seek to carry out projects that progress smoothly from start to finish and achieve their long-lasting objectives. The certainty we provide brings peace of mind – that's why our clients can sleep well.
–
Would you like to be part of developing real estates and areas that are built profitably, last for decades, and where people actually enjoy being?
Contact Janne or Juri to learn more about our operating model and its effectiveness, and delve into the second half of the page to explore our principles of urban and real estate development, as well as the tools we use.
Let's refine your sketch into a project
Janne Salonen
Project Development Manager
B. Eng.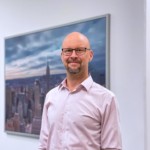 Juri Pelkonen
Senior Architect
Architect
LI
Our goal in urban and real estate development is to create financially successful and holistic living and working environments. Both emphasize the importance of understanding and managing complex entities.
"SARA's development work is based on user-centric construction. A good environment speaks to people through clarity and the right scale. A city environment includes a pleasant, lively street space built on precise traffic planning for smooth flow."
– Janne Salonen, Hankekehitysjohtaja
In a functional city, everyday life is safe, enjoyable, and easy. Such an environment provides excellent opportunities for smooth mobility using various modes of transportation.
Urban Development
The cityscape should not be unrecognizable. We strive to create urban spaces where functions blend together naturally and interestingly, allowing for flexible integration.
Housing, leisure, work, services, hobbies, mobility, and appealing urban spaces—All the everyday needs of city dwellers easily accessible.
A appropriately compact urban structure enables a seamless and diverse environment. Compactness is achieved by locating it near good transportation connections while preserving the urban nature and supporting convenience in everyday life.
Transportation planning is emphasized in commercial areas, accommodating pedestrians, cyclists, motorists, and public transportation users. It is advantageous to involve anchor users in the planning phase of the area.
When the needs of different stakeholders are considered in the planning process, the area becomes a functionally and accessible cohesive entity with assured logistics.
Property Development
Property development is worthwhile, as it increases the value and return on investment of the property through change. Development work ensures that the overall result becomes comfortable, efficient, and modern—tailored to your needs.
As experienced property developers, we handle the ideation and development work within the client's constraints. We carry out new construction, renovation, and/or expansion projects and seek users for new spaces.
Sustainable property development starts with the user and experience, and designing to meet users' needs is a key task in projects.
By operating in a user-centric manner, the client becomes our partner from the development phase onward, allowing construction and work processes to be planned from the beginning, with the best interests of the client and users in mind.
Our Tool Box
---
"Here's how projects progress, and with these tools, they go in the right direction. In our development work, we use tools that are at the forefront of the industry.
We facilitate decision-making by creating information models for all projects. These models help us determine project constraints right from the beginning, access costs, and compare different options.
We justify all our solutions with data, allowing us to optimize construction efficiency. We can model, for example
How traffic and noise affect housing.
How much daylight does an individual apartment receive during a specific season.
How many apartments have, for example, a lake view or how many only seea neighboring building.
Visual design: superior method
Do you want to analyze complex diagrams or would it be better to see the finished building as it actually looks? This is what visual design is all about.
Visual design is fast and facilitates decision-making. With the tools we use, we can quickly produce a model of the project, making it easy to grasp the overall concept.
Why does visual design improve projects?
Space and building are easier to comprehend when different options can be viewed through images, videos, or virtual reality.
Changes can be made almost in real-time during design meetings.
Design process becomes faster and more streamlined.
We save time and money in the later stages of projects.
Thanks to virtual tools, we can move from seeing to experiencing. We can test, in the early stages, how it feels to move around in a space, for example.
Visual design is a valuable tool in every phase of construction. We utilize it in various applications such as site competitions, space planning, additional construction, infill development, and marketing materials.
If you have read this far and are interested in specific applications, the current palette includes Autodesk Revit (building information modeling), Enscape (visualization), and Forma (generative design, previously Spacemaker).