SARA
SARA manages – Client sleeps well
When a construction project involves an investment ranging from five to fifty million euros, the pressure on the client is high. That's when SARA receives a phone call. We provide peace of mind and success to our clients.
Success is achieved when a project is executed with the right level of quality, and the client doesn't experience premature hair loss or dental issues due to surprises. The schedules are not yo-yo like but precise, and when the project is completed, instead of budgets, champagne corks pop.

We offer the complete range of construction project management services
Not all projects require the involvement of three different consultants; sometimes one is enough, and that's where SARA comes in.
Our service portfolio is available individually or can be combined into comprehensive solutions, depending on the specific needs and scope of the project.
Having engineers and architects in the same office provides a tremendous advantage in terms of synergy.
Project or an idea for one?
Call Timo / Janne directly or fill out offer request sheet so we can talk more about it.
Your Contacts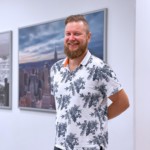 Janne Salonen
Project Development Manager